Our Favorite Bahamas All-inclusive Resorts for a Stress-free Beach Vacation (2023)
The Bahamas, a collection of Caribbean islands just a few hundred miles off the coast of Florida, is famous for its white sandy beaches, crystal-clear waters, and bountiful marine life. The Bahamian people are warm and friendly with a rich cultural heritage and take great pride in the islands. The beauty of the islands along with the welcoming nature of the people help make the Bahamas one of our favorite Caribbean destinations, whether you're there for a quick hotel getaway or staying at a luxurious all-inclusive resort.
Our Favorite Bahamas All-Inclusive Resorts
When it comes to planning a hassle-free vacation, it's hard to beat the appeal of an all-inclusive resort. In most cases, meals, drinks and activities are all included in the price. This means no surprises at check-out and knowing what to expect up front. However, it doesn't mean that there are a lack of choices or ways to spend your days and nights. Most all-inclusive resorts in the Bahamas offer multiple dining options, live entertainment, various bars, swimming pools, spa services, fitness options, and a plethora of other activities.
Below are eight of the best all-inclusive Bahamas resorts available. We're confident that choosing one of the Bahamas all-inclusive resorts from this list will help ensure that your stay is nothing short of luxurious, unforgettable, and totally relaxing!
Sandals Royal Bahamian: The Royal All-Inclusive Experience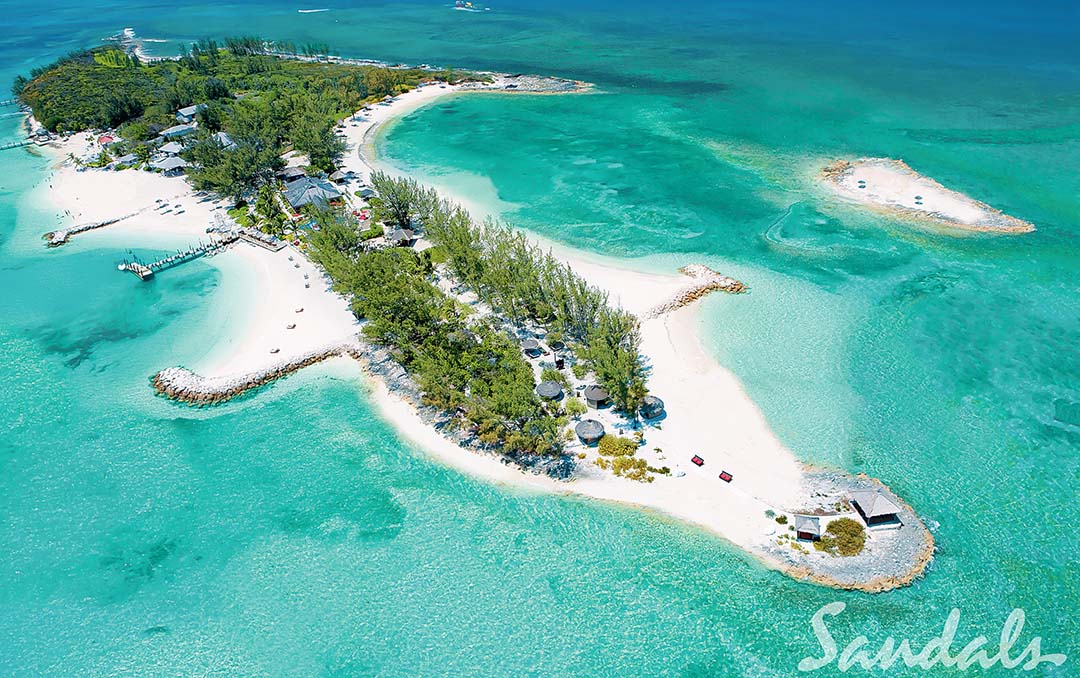 Visit Nassau's only resort with a private island! It's all about modern luxury and sensational Caribbean views at the award-winning Sandals Royal Bahamian. With its exclusive private island and sensational new swim-up suites, you have the makings of a romantic vacation not to be passed up!
The three Red Lane Spa locations at Sandals Royal Bahamian (including one on the resort's private island) have been voted "The Bahamas Best Resort Spa" by World Travel Awards for their exclusive romantic amenities and array of rejuvenating spa treatments. You won't want to miss this experience!  As for dining, 12 casual and fine dining options are offered featuring an array of cuisine from French to Caribbean seafood.
All-new spacious Swim-up Suites offer couples club-level perks or professional butler service for attending to all your needs. These enticing suites are available with oceanfront or tropical garden views, and private patio soaking tubs add to the unrivaled intimacy. Select room categories even provide Rolls Royce or Mercedes Benz airport transfers!
Read below about why our Travel Advisors love Sandals Resorts!
Sandals Emerald Bay: Secluded Luxury - Breathtaking Beauty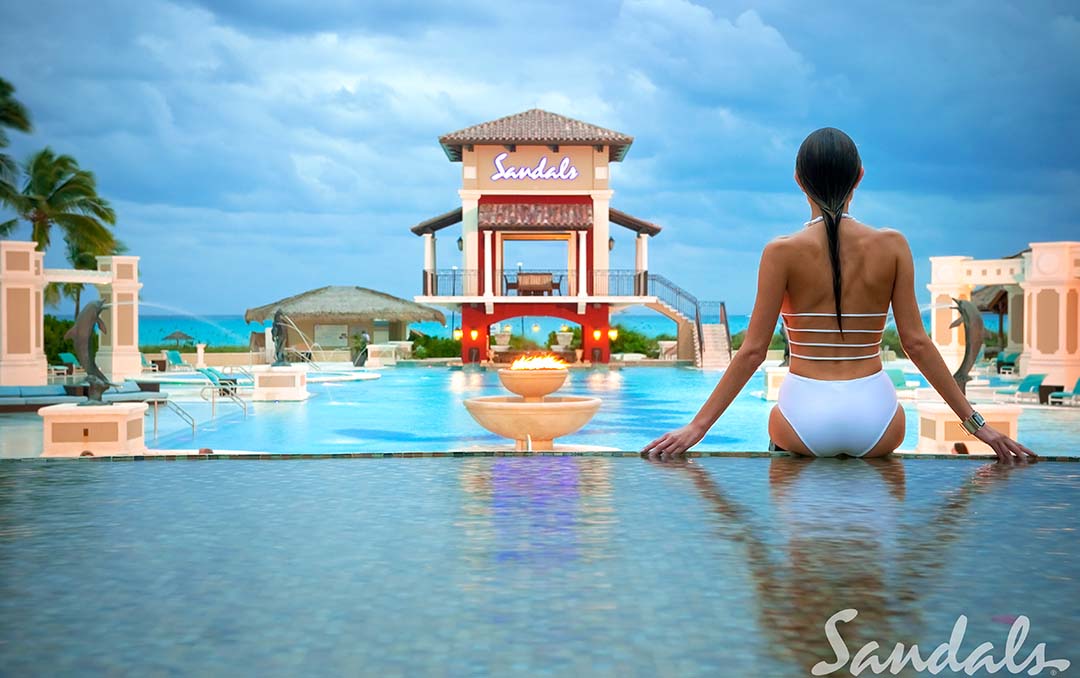 Reveling in the sensational scenery of the Bahamas' Great Exuma comes naturally to couples at Sandals Emerald Bay. The resort's expansive white-sand beach invites couples to enjoy it however they desire, whether it be through relaxing in luxury cabanas, indulging in beachside spa treatments, or enjoying tennis, watersports, or diving. How about world-class golf?  Sandals Emerald Bay boasts a Greg Norman-designed golf course featuring six breathtaking oceanfront holes.
Luxury accommodations at this adults-only all-inclusive resort are plentiful, with beachfront villas and suites revealing one of the most spectacular views on the island. Every room at Sandals Emerald Bay is either located directly on the beach or just a short stroll away, and nearly half of the resort accommodations include butler service! 
Voted the Bahamas Leading All-inclusive Resort 2021, Sandals Emerald Bay includes 12 unrivaled 5-star global gourmet dining options that seal the deal. 
The signature experience that couples will not want to miss is the iconic Swimming Pigs of Exuma! The lovable pigs have long called the Bahamas home, and Sandals' concierge desk will assist you in booking an unforgettable adventure through an Island Routes excursion.
Read below about why our Travel Advisors love Sandals Resorts!
Baha Mar Resort: The Ultimate Luxury Experience
The place to see and be seen in the Bahamas! Close to the Nassau airport, you can deplane and be on the resort's private beach in almost no time! With many dining options, shopping and entertainment, it's possible that you'll never need to leave this expansive resort.
If you're seeking luxury, excitement, and entertainment, Baha Mar ranks among the top of Bahamas all-inclusive resorts. Baha Mar is a luxury vacation dream come true, featuring the largest casino in the Caribbean (100,000 square feet of gaming space!), a Jack Nicklaus-designed golf course, and a luxurious spa.
Baha Mar Resort provides guests with the option of staying at one of its three distinguished oceanfront hotels—choose between the elegant Rosewood, the trendy SLS Baha Mar, or the contemporary and chic Grand Hyatt Baha Mar.
The Ocean Club: A Four Seasons Resort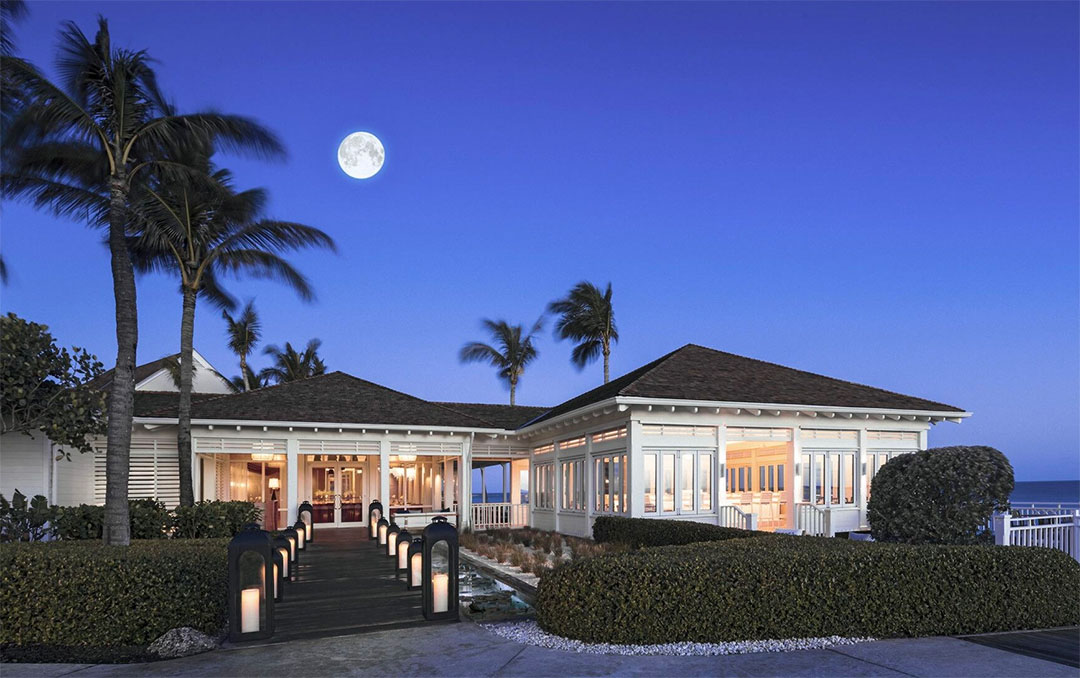 This quiet, tranquil, resort is absolutely one-of-kind. Since its opening in 1962, The Ocean Club has been a go-to destination for celebrities and discerning travelers. Located on a 5-mile stretch of white-sand beach on Paradise Island, the resort offers a secluded environment with 35 acres of Versailles-inspired gardens.
When it comes to dining and leisure, The Ocean Club is a great choice among all-inclusive resorts in the Bahamas. This Four Seasons resort offers everything from fine-dining to delicious food at casual beachside grills. For wellness enthusiasts, the resort features a Balinese-style spa offering an array of treatments aimed at rejuvenation and relaxation.
Adding to its grandeur is an 18-hole golf course designed by Tom Weiskopf, providing golf lovers with a challenging and scenic experience. Whether it's the unmatched privacy, the attentive service, or the range of other amenities, The Ocean Club on Paradise Island promises a luxurious and unforgettable Bahamian getaway.
Viva Fortuna Beach by Wyndham: A Tropical Paradise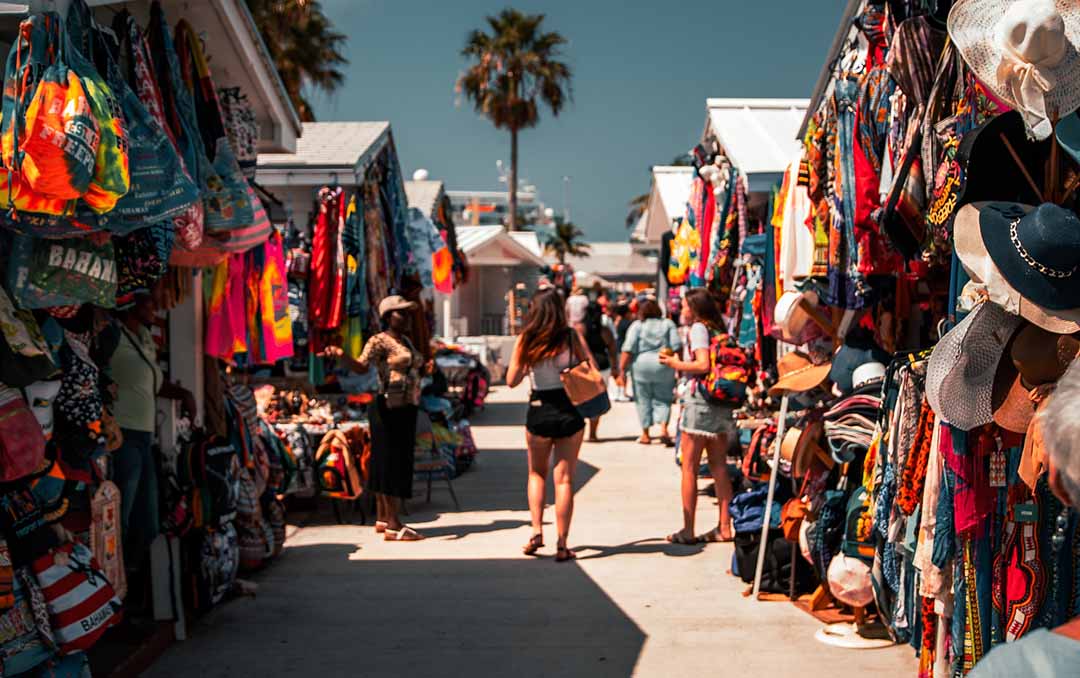 Nestled on a secluded beach in Freeport, Grand Bahama, just nine miles from Grand Bahama International Airport (FPO), Viva Fortuna Beach by Wyndham offers a getaway that combines natural beauty with top-notch amenities. Viva Fortuna Beach is a standout option among all-inclusive Bahamas resorts. Guests can indulge in a hassle-free all-inclusive getaway that includes meals and snacks, unlimited beverages, cocktails and wine. A variety of land and water activities are also included in the stay.
The Victorian-style resort boasts a range of accommodations to suit every need, from standard rooms to spacious suites, each featuring modern amenities like flat-screen TVs and free WiFi. With lush tropical gardens and immediate access to a beautiful beach, this 26 acre resort effortlessly blends comfort within a natural oasis.
Close to the town of Freeport, the resort also offers guests the opportunity to explore local culture, shopping, and dining. Take advantage of optional excursions to immerse yourself in the Bahamian experience.
Warwick Paradise Island, Bahamas: An Adults-only Oasis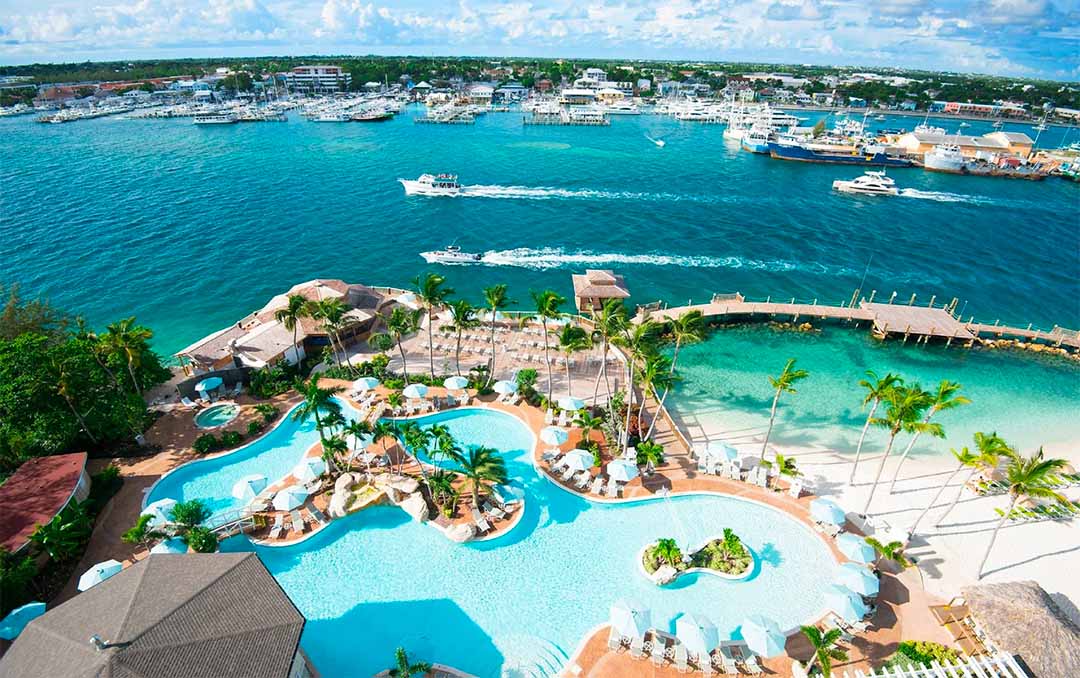 Also Located on Paradise Island, this adults-only retreat offers an oasis for couples or groups. As one of the Bahamas' most popular all-inclusive resorts, the Warwick Paradise Island has received significant accolades, including being ranked as the second-best resort in The Bahamas by Conde Nast Traveler in the 2019 Reader's Choice Awards. Additionally, the resort was voted Best All-Inclusive Resort in the Caribbean Journal's Bahamas Travel Awards in 2020. These awards solidify the resort's reputation as one of the premier destinations in the region.
Upon check-in, stress melts away, allowing you to fully enjoy the resort's amenities, which include a private harbor, outdoor pool, a powdery white sand beach, and five distinguished restaurants.
Perfect for vacations, honeymoons, or seasonal getaways, the Warwick Paradise Island offers an all-inclusive vacation package that covers meals, beverages, and snacks across all of its bars and restaurants. Guests can also enjoy various on-site activities and nightly entertainment, all while staying in modern accommodations with stunning views and receiving the service Warwick is known for.
Riu Palace Paradise Island: Adults-Only Elegance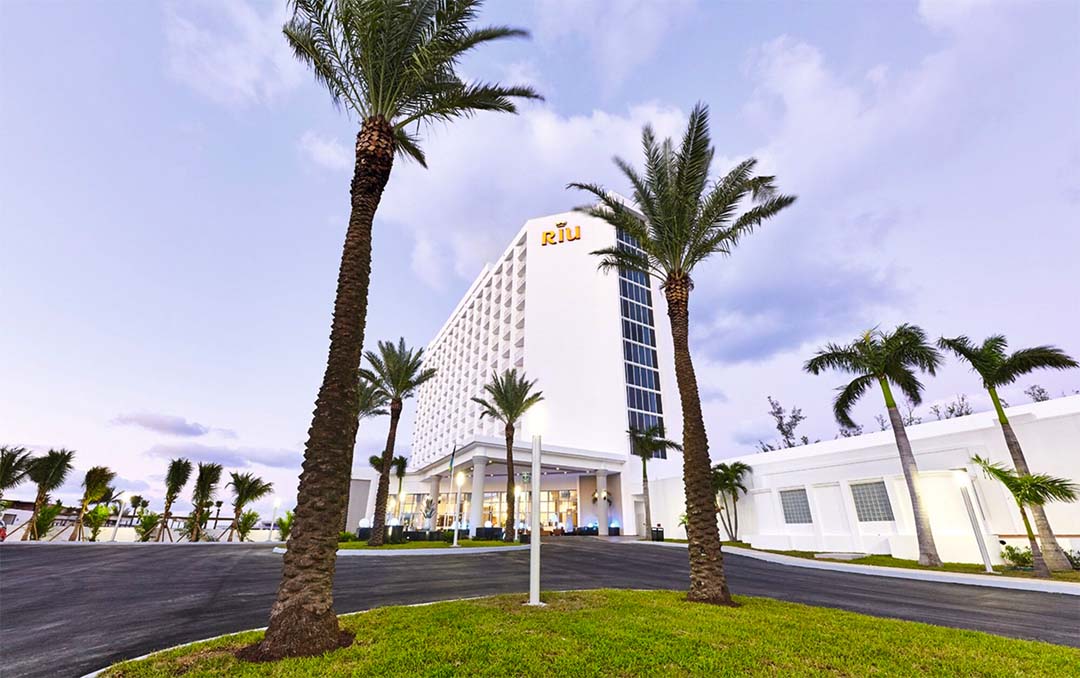 Located on the stunning white sand beaches of Paradise Island, the Hotel Riu Palace Paradise Island is an adults-only all-inclusive resort offering an array of premium amenities. On-site facilities include two swimming pools, a swim-up bar, and a lounge area complete with complimentary beverage service. Guests can also step directly from the property onto a reserved beach area where they can relax under the Bahamian sun.
Multiple on-site restaurants offer a wide range of dining options crafted by expert chefs. Riu Palace Paradise Island also boasts a wide variety of entertainment designed to complement your all-inclusive vacation, including live shows and music. Active guests can hit the gym or engage in a variety of water sports such as beach volleyball, windsurfing, scuba diving, and kayaking.
For those seeking even more relaxation, the Renova Spa offers a sauna, whirlpool bath, and an variety of full-service spa treatments to choose from. While visiting the Riu Palace Paradise Island, you'll also be able to explore the local area around Nassau or take part in unforgettable activities. One of our favorites is swimming with dolphins off Salt Cay Island!
Breezes Bahamas: Unwind in Tropical Splendor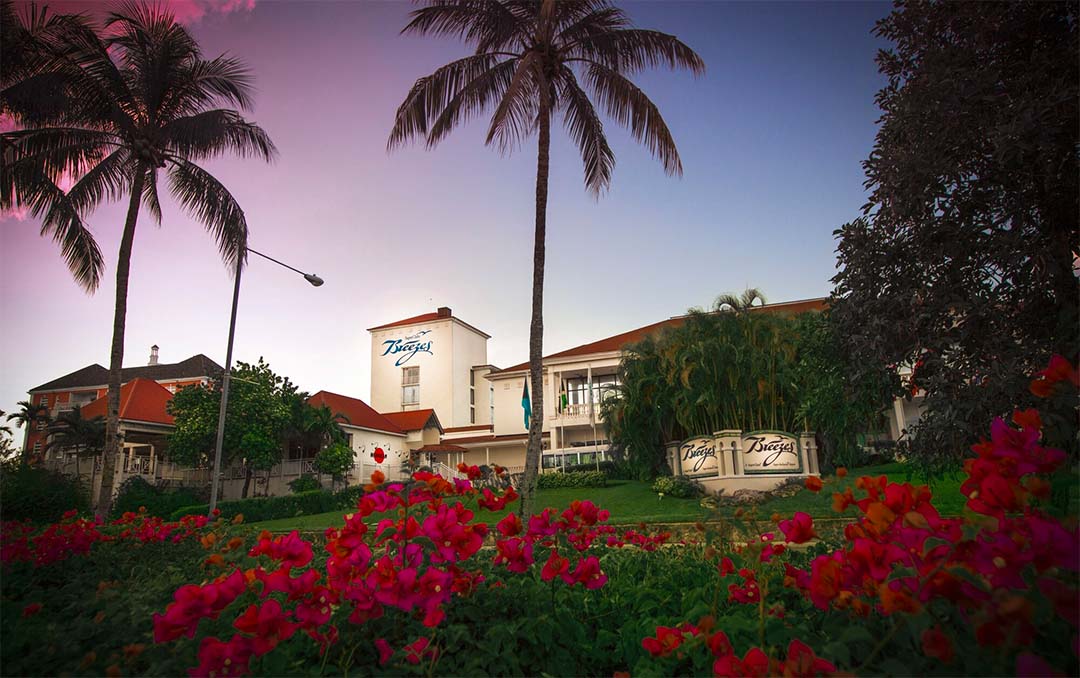 Breezes Resort Bahamas is perfectly situated on the world-famous Cable Beach in Nassau. Its location offers guests the ideal Bahamas experience, marked by turquoise waters and powder-soft sands, while also providing easy access to local attractions, popular beaches, and the bustling life of Nassau, the Bahamian capital.
Accommodation at Breezes Bahamas is designed to cater to a variety of tastes and needs. Whether you opt for a classic room with a garden view or an oceanfront suite, each room is well-appointed with modern amenities to assure a comfortable and luxurious stay. With several "Resort Pass" options available, all-inclusive vacation packages are within reach for most travelers.
While its Cable Beach location means you're at the center of the action, Breezes Bahamas also offers a wide range of on-site amenities and activities for guests to enjoy both on land and in the water. Enjoy volleyball, tennis, table tennis, or kayaking. Relax in one of three pools and enjoy a drink at the swim-up bar. Take a nap on the beach in a hammock, and enjoy the natural beauty of the resort's premier Cable Beach location.
Guests ages 14 and up are welcome at Breezes, making this one of the more family-friendly resorts on our list.
An All-Inclusive Resort for Anyone!
The Bahamas offers hundreds of all-inclusive vacation packages to choose from. Whether you're seeking the refined ambiance of Sandals Royal Bahamian, the private retreat offered by Sandals Emerald Bay, or the wide variety of experiences available at any of these top-tier all-inclusive resorts in the Bahamas, the islands are sure to provide the ideal destination for every type of traveler.
Opting for an all-inclusive resort in the Bahamas will help ensure that your vacation is stress-free, full of fun, and filled with memories to last a lifetime. Dive into the serene blues of the Bahamas and experience the some of the best that the Caribbean has to offer!
Why We Recommend Sandals Resorts
Having visited numerous Caribbean destinations firsthand, there's a reason we often recommend Sandals properties, particularly in the Bahamas. Both Sandals Royal Bahamian and Sandals Emerald Bay offer a perfect blend of luxury, comfort, and authentic Bahamian charm that is often sought but rarely found. While there are dozens of all-inclusive resorts in the Bahamas, Sandals consistently stands out for its commitment to delivering unparalleled guest experiences, from fine dining to unique experiences, all in an immaculate beachfront setting. If you're considering a trip to the Bahamas, we highly  recommend exploring what Sandals has to offer.  
Need help booking your next luxury Caribbean getaway? Creative Travel Brands can help. You can contact one of our Travel Advisors by calling us at 720-597-8282 or by filling out this contact form. Or, to get started right away, fill out our quote request form!